| | |
| --- | --- |
| Help | |
Optional Swear Filter (and "worksafe" mode)
To use the optional swear filter -

Scroll to the bottom of the screen, on the left hand side you'll see a drop-down menu. Select 'est1892 - (Censored Version)' from the drop down menu as shown on the right. A plain skin suitable for browsing the site at work can also be chosen from this menu.

If you spot any swear words that we've missed please let us know.
Avatars
An avatar is a good thing to have, as it helps others distinguish between posters. If you have trouble entering an avatar through the usercp, feel free to ask for assistance in the help & feedback forum here.

Avatars in general should not be offensive or intended to offend, and it is specific site policy not to allow highly sexualised avatars. Avatars may be removed by a moderator if deemed inappropriate. Doing so is not up to a mod to justify.
The Sinbin
Being sinbinned does not constitute a temporary ban from the site.

When sinbinned, a user will only be able to see the sinbin forum, and is expected to sensibly debate whatever issue brought them in there with the moderating team. Once the issue is resolved, their full access to the forums will be restored.

Please note that the default sinbinning is for a month, but can be lifted at any time, so just sitting it out is not a sensible option.
Archive (Low Bandwidth Version - Read Only)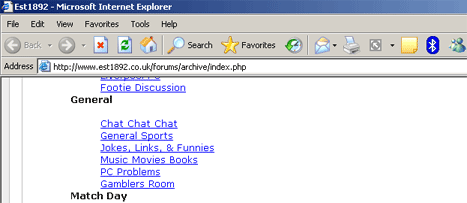 Our forums also offer a low bandwidth "Archive" version of the forums. This can be reached by clicking on the "Archive" button at the bottom right of the forum pages. Please note, that this is read only, and you will not be able to reply to threads in the archive system.
This system is ideal if you are browsing from a PDA/Mobile phone, or even in a shared office enveiroment.
Real Time Mode
Real Time Mode:

Simply click on 'Real Time' in the navigation bar. This will open a new page, as new threads are created, or new posts created the Real Time view will update giving you an up to date view of the forum activity.

You can even Pause and Un-Pause comments, simply click on the Pause Button, to Un-Pause, simply click on the Play Button.
Change Username
If you wish to use a different username, please do not create duplicate accounts. Use This Link to submit a "Change Username" request.
View all posts in thread - (Not Functional)
We have been asked a number of times if its possible to view all the posts of a paticular thread using a button.

This will NOT be possible, we already show 40 posts per thread, if we were to give the option to show all posts of a paticular thread, the server load would be too big. For instance, a 10 page thread would need to pull 400 posts from the database, the server would need to retrieve them, parse the info then send it onto your browser.

Therefore, definately no I'm afraid.
SQL Backups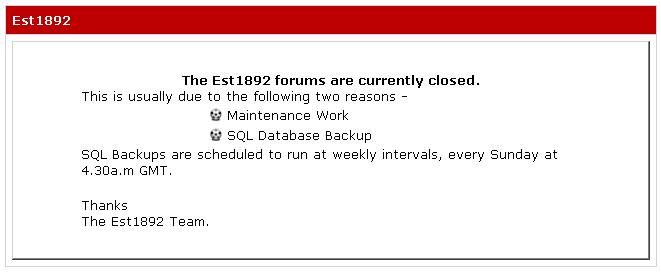 The above message will be posted while the SQL Backups are running.
Board Maintenance (Scheduled & Unscheduled)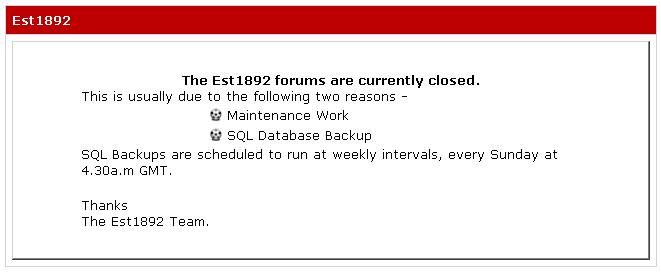 Occasionally we will need to close the board in order to run some Maintenance tasks, our standard message is shown above. When we intend to run these tasks, a new thread will be created in the News & Feedback forum. If it is an unscheduled task, the "Forum Closed" message will be edited accordingly.
Our Smilies
| | |
| --- | --- |
| | :) |
| | :jaw: |
| | :sigh: |
| | :shake: |
| | :handshake: |
| | :D |
| | :p |
| | :( |
| | :haha: |
| | :oh: |
| | :cool: |
| | :jizz: |
| | :search: |
| | :taxi: |
| | :crackoff: |
| | :rant: |
| | :rock: |
| | :grr: |
| | :miffed: |
| | :source: |
| | :o |
| | ;) |
| | :confused: |
| | :eyebrow: |
| | :rolleyes: |
| | :chunks: |
| | :cry: |
| | :wall: |
| | :jedi: |
| | :rash: |
| | :respect: |
| | :bird: |
| | :finger: |
| | :cheerleader: |
| | :bait: |
| | :point: |
| | :whip: |
| | :woot: |
| | :lfc: |
Our current list of Smilies and the text required to use them.